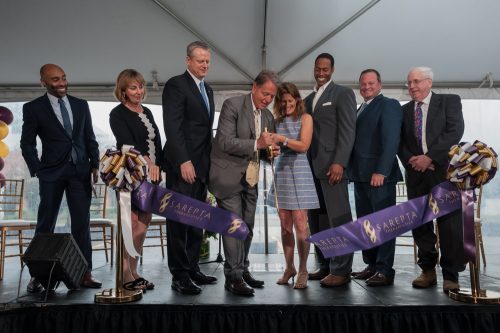 "Let's just say that my life is a combination of bitter and sweet."
I try not to make a habit of plagiarizing my kids, but I see no reason to reinvent the wheel when the first sentence of an essay by Charley pretty much sums up what I want to say.
The emotional push-and-pull follows me everywhere. Each birthday, extreme gratitude battles painful pangs of awareness that there may not be many more of these. Every "growing up milestone" brings amazement and joy, but I also have to shoo away thoughts of what Charley might be doing right now, what Charley might look like right now, had he not been burdened by this horrid disease. A fun summer night roasting marshmallows by the fire often induces tears, equal parts sadness and gratitude.
I'm pretty much a master at managing the tug-of-war, so I was surprised when my mixed emotions recently hit me with significant force. I was sitting on a dais with a group of Massachusetts bigwigs. Governor Charlie Baker. Dr. Ed Kaye, CEO of Sarepta Therapeutics. Travis McCready, President and CEO of the Massachusetts Biotechnology Council. Bob Coughlin, chief of the Massachusetts Life Sciences Center.
It was a big day here in my home state, the biotech capital of the world. Sarepta, the drug company responsible for the first FDA-approved treatment for Duchenne, was celebrating the grand opening of a new manufacturing facility. This is where the company will produce personalized medicines that target specific genetic mutations to change the way the body reads the genetic code. This is where the company will manufacture drugs that may help some boys celebrate more birthdays.
On the one hand, that day was very much a massive victory. For more than a decade we've worked to advance exon skipping as a treatment for Duchenne. When Benjy and I started Charley's Fund, this therapeutic approach was considered promising but had a long way to go before it could be tried in humans. Today, hundreds of boys are receiving weekly infusions, and this new facility will ensure that drug is available for all eligible boys. Billy from Ohio is 16 years old and still walking. Fourteen year old Max from Massachusetts has lasted on his feet way longer than his older brother did. Jett, a 21-year-old college student can, for the first time in his life, crack open his own beers. Pietro from Staten Island started treatment when he was four. Because he started so young — before much of Duchenne's devastation set in — for the first time in the history of Duchenne, a little boy's prognosis is not cruelly set in stone.
Hence the joy and the gratitude, and the huge smile on my face as Dr. Kaye and I cut the ribbon. But even as I shook hands with dignitaries and offered congratulations all around, the pit inside me made itself known. The sadness and fear is for Charley and Joseph and Michael and Gus and so many other boys I know who are still waiting for exon skipping medicines that can induce their bodies to produce dystrophin. My son and many others – 87% of kids with Duchenne to be exact — are still waiting for a drug that can give them another birthday on their feet, more time to independently brush their teeth, more nights when they can hug their moms and dads good night. For them and even for the guys who can benefit from this first drug, we still need more medicines to treat, stop, and ultimately cure this awful disease.
The victory we were celebrating that day is not a pause point. It's a reminder that we really can change the outcome. We can rewrite the future for our boys. We can commute their death sentence. It's a hell of a strong start, with much more to come.