If I had to pick a metaphor to describe the year 2019, it would most definitely be a roller coaster. I know that's a total cliché, and the aspiring writer in me tried really hard to come up with another way to describe how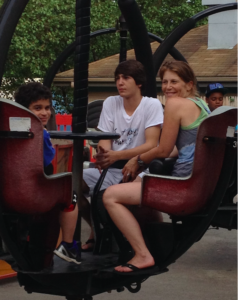 this year has felt. But when I look back on 2019 — in terms of both DMD research and our family life — I just keep coming back to the roller coaster image.
On the one hand, I think about Charley in college, and I have to stop myself from waving my hands in the air and screaming with delight at the top of my lungs. To know that he's living on his own in a college dorm, scoring a B+ average at a competitive academic institution, and setting up interviews for summer internships truly does feel like we are at a pinnacle — an exhilarating high we never thought we'd be lucky enough to reach.
But that exciting, buzzy feeling is definitely not constant; it's accompanied by new lows that dip farther than I've ever been before. Take, for example, the spectacularly horrible evening our family had last week. We had tickets for the five of us to see a Broadway show. But on the way to dinner, things began to unravel. Charley opened up about how hard it is to make friends, which he attributes to being physically disabled and looking much younger than his actual age. He admitted that it's becoming a struggle to get dressed in winter time and get up from the toilet. Emotions started running high, then sadness got mixed up with anger, and ultimately the evening blew up in our faces. Charley and I had to leave the theater before the curtain even went up. We screamed at each other the whole way home, then cried and fell asleep.
It's not just our family that's suffered some gut-wrenching lows this year. In the past month alone, the DMD research community has weathered a series of significant setbacks. The global pharma giant Roche ended clinical trials for a Duchenne treatment because there was no evidence that kids who took the medicine were better off than kids on placebo. Then just a few days later, Solid Biosciences' gene therapy trial was put on hold when a child in the study experienced a serious adverse event. (Thankfully, he's fully recovered.) Then Wave Life Sciences discontinued development of two DMD treatments because their lead compound did not produce dystrophin in any of the kids who tried it.
By November, it really felt like we were descending toward an irrevocable low point. But then the rollercoaster swooped upward, and 2019 ended up bringing some amazing research high points. A second exon-skipping drug called Vyondis was approved by the FDA, and will be available soon to 8% of the DMD population who — until recently — had no treatment options. So far, this new drug appears to make more dystrophin than the first drug that was approved in 2016. Additionally, Solid Biosciences, the company whose trial was put on hold in November, announced last week that kids who received their microdystrophin treatment now have a form of the missing protein in their muscles whereas before treatment they had none. And Roche, the company who dropped a DMD program due to disappointing trial results, jumped back into the arena with a major partnership — and significant resources — to help advance a different gene therapy approach.
Drug development is a risky business. As the stakes get higher, the risks intensify. But so do the rewards. So hang on tight, because we are not getting off this ride. We're staying firmly put, ready to handle whatever the new year brings. We're determined to learn from the lows, and then make sure we do everything in our power to climb back up to reach new heights.